Store Updates & Specials - Jan 4, 2021
We hope each and every one of you had a Merry Christmas and a Happy New Year.

We are excited to welcome 2021.


Due to the overwhelming popularity of our Year End Inventory Reduction sale, we are extending the sale till this Saturday, Jan 9th. Most In Stock Sewing and Embroidery machines are up to 50% off!!

Fabric at the Ellijay location is on sale this week for 20% off. (Minimum 1 yard cut)

We have added 2 classes at the Ellijay location.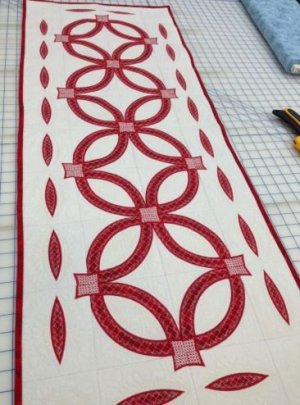 HoopSisters Double Wedding Ring Table Runner

https://www.vectorquilts.com/module/class.htm?classId=394103

3 sessions - 4th Saturday Each Month
Finished Size: 17 ½" x 46"


This traditional pattern is amazingly simple when done in the hoop of your embroidery machine with the HoopSisters technique!
This beautiful design features:
Only 8 Steps per Block

Beautiful quilting

The No-Sash method which is the same method used on the Jacobean Journey Whole Cloth quilt or any whole cloth quilt. It is one of the featured joining methods in the HoopSisters Join Your Sash Off DVD. Essentially the blocks are simply sewn together with a ¾" seam, double folded and stitched with tiny zig zag!

5" block sizes


Pub Crawl -Designed by Jessica Darling
Taught by Terry Roberts

Day and Evening sessions

https://www.vectorquilts.com/classes.htm?categoryId=788900659

Looking for a unique quilt that looks like you spent a lot of time making it but really didn't? We have just the class for you! Join us in a 2 part class to make this unique quilt that finishes at 56" x 68". For an added bonus, we are offering an evening and day time class. Space is limited so sign up soon!

Finished size is 56" x 68"

Fabric kits available